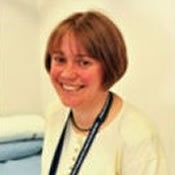 Email: Ruth.plummer@newcastle.ac.uk
Research profile and key clinical specialties
I am a consultant medical oncologist treating melanoma patients and also director of the Sir Bobby Robson Cancer Trials Research Centre with responsibility for a busy early phase trials practice.
At a national level I sit on CRUK's Science Funding committee, chair the CRUK New Agents Committee and also am involved in NCRI clinical groups in melanoma and radiotherapy research. I am a member of CRUK's Clinical Research Committee and Science committee.
My research interests are melanoma and the DNA damage response, working alongside scientific colleagues in the Northern Institute for Cancer Research.
We have a dedicated clinical research team and biomarker development and validation team, working together to take novel agents in the clinic with mechanistic biomarkers.
All clinical studentships in NICR are dual supervised to provide training in clinical research, as well as scientific laboratory techniques.
Two key publications
Spicer J, Baird R, Suder A, Cresti N, Corbacho JG, Hogarth L, Frenkel E, Matsumoto S, Kawabata I, Donaldson K, Posner J, Sarker D, Jodrell D, Plummer R. Phase 1 dose-escalation study of S-222611, an oral reversible dual tyrosine kinase inhibitor of EGFR and HER2, in patients with solid tumours. Eur J Cancer. 2015 Jan;51(2):137-45.
Drew, Y., E. A. Mulligan, W. T. Vong, H. D. Thomas, S. Kahn, S. Kyle, A. Mukhopadhyay, G. Los, Z. Hostomsky, E. R. Plummer, R. J. Edmondson, and N. J. Curtin. 2011. 'Therapeutic potential of poly(ADP-ribose) polymerase inhibitor AG014699 in human cancers with mutated or methylated BRCA1 or BRCA2', J Natl Cancer Inst, 103: 334-46
Possible PhD projects
Development and validation of mechanistic biomarkers of the DNA damage response in cancer cells and downstream target modulation – preclinical and clinical proof of concept studies within phase I trials.
More information
I teach on a number of postgraduate master's programmes for Newcastle University, in early phase clinical trial design.
Keywords: Oncologist, oncology, melanoma, radiotherapy mechanistic, biomarkers, DNA, tumours, CRUK, Ruth, Plummer, Newcastle