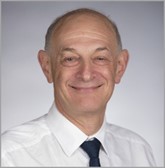 Email: s.heller@sheffield.ac.uk
Research profile and key clinical specialties
My role as academic supervisor for the ACFs and clinical lecturers in Diabetes/Endocrinology in the South Yorkshire region for the last 9 years includes membership of the Clinical Academic Working Group for South Yorkshire.
My current research interests include the pathophysiological responses to hypoglycaemia and hypoglycaemia unawareness, the potential contribution and mechanisms of hypoglycaemia to cardiovascular mortality, the use of insulin analogues and other technologies to reduce hypoglycaemia.
I also lead research programmes concerned with developing interventions (including the DAFNE intervention) to encourage more effective diabetes self-management.
Two key publications
Bernjak A, Chow E, Robinson EJ, Freeman J, Marques JLB, Macdonald IA, Sheridan PJ, Heller SR: Influence of cardiac autonomic neuropathy on cardiac repolarisation during incremental adrenaline infusion in type 1 diabetes. Diabetologia 63:1066-1071, 2020
Chow E, Iqbal A, Walkinshaw E, Phoenix F, Macdonald IA, Storey RF, Ajjan R, Heller SR: Prolonged Prothrombotic Effects of Antecedent Hypoglycemia in Individuals With Type 2 Diabetes. Diabetes Care 41:2625-2633, 2018
Possible PhD projects
Exploring the potential of beta-blockers and other agents to block the inflammatory and arrhythmic effects of insulin induced hypoglycaemia.
More information
Has supervised 10 MD/PhD students.
Keywords: Diabetes, endocrinology, pathophysiological, hypoglycaemia, cardiovascular mortality, insulin, beta-blockers, Simon Heller, Sheffield