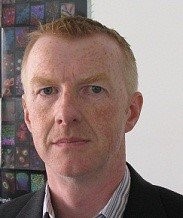 Email: Paul.evans@sheffield.ac.uk
Research profile and key clinical specialties
My research is focused on the effects of shear stress (a mechanical force generated by flowing blood) on the physiology of vascular endothelial cells.
These studies are relevant to atherosclerosis and in-stent restenosis which are promoted by disturbed patterns of blood flow, and to bypass grafts which involves exposure of vessels to altered hemodynamics.
The cross-disciplinary nature of my work has led to interactions with clinicians, molecular and cellular biologists, vascular physiologists and bioengineers.
My research programme will inform novel therapeutic approaches to prevent or treat atherosclerosis by inducing protective molecules at atherosusceptible regions and new interventions to prevent restenosis and graft failure.
My studies in this field have been recognized by the British Atherosclerosis Society (John French Lecture 2011) and the British Cardiovascular Society (Michael Davies Award 2011), and members of my group have also won prestigious prizes.
I am Chair of the European Society of Cardiology Working Group for Atherosclerosis and Vascular Biology.
Two key publications
Mahmoud M, Kim HR, Xing R, Hsiao S, Mammmoto A, Chen J, Serbanovic-Canic J, Feng S, Bowden NP, Maguire R, Ariaans M, Francis S, Weinberg PD, Van der Heiden K, Jones EA, Chico TJ, Ridger VC, Evans PC. (2016) TWIST1 Integrates Endothelial Responses to Flow in Vascular Dysfunction and Atherosclerosis. Circ Res. 119: 450-462.
ZakkarM, ChaudhuryH, Luong LA, Punjabi PP, Anderson JR, Mullholand JW, Clements AT, Krams R, FoinN, Leen ELS,Mason JC, Haskard DOand Evans PC (2011). Dexamethasone arterializes venous endothelial cells by inducing MAP kinase phosphatase-1: a novel anti-inflammatory treatment for vein grafts? Circulation 123 (5): 524-532.
Possible PhD projects
How does shear stress influence endothelialisation of stented arteries?
Does pre-shearing protect bypass grafts from inflammation and injury?
More information
Keywords: Blood, Cardiovascular, vascular, dysfunction, endothelial, hemodynamics, atherosusceptible, Paul, Evans, Sheffield
Keywords: Blood, Cardiovascular, vascular, dysfunction, endothelial, hemodynamics, atherosusceptible, Paul, Evans, Sheffield